First, there was Bobby Jindal:
In all fairness to Bobby Jindal... Oh, forget it, the rest of his speech was downhill from there.
Then, there was Marco Rubio:
What a difference a few seconds and a bit of dry mouth can make to a politician's career. I have no idea why, actually, but Marco Rubio went from darling to toast in those few seconds. Well, no substantive reason why.
I don't know if it was Reince Priebus or whoever that thought this year's GOP response should be given by Cathy McMorris Rodgers -- could the Repubicans have been looking for a woman? -- but she most definitely gave the response this year:
McMorris Rodgers should have stayed in her safe place, and that was in photos of the House GOP leadership as the token woman in the picture: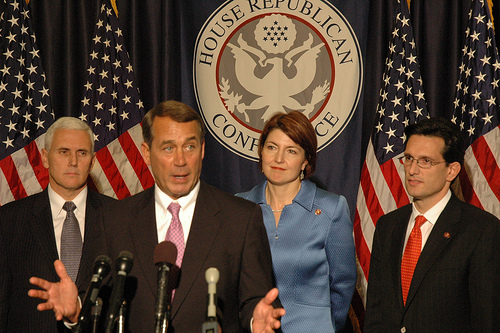 Yeah, that was your safe place. Why did you leave it? For a moment of fame, followed by a
much longer time
of
derision
?
Yep
,
maybe so
.
A little attention isn't always a good thing, as McMorris Rodgers is about to find out. We know who you are now, Congresswoman, and so does
The Office Of Congressional Ethics
:
Politico on Thursday.
The Office Of Congressional Ethics is recommending that the House Ethics Committee perform a full investigation into the matter. The news was first reported by
McMorris Rodgers, the House's No. 4 Republican, denied that she is guilty of any wrongdoing.
As far as I can tell -- and you can ask Chris Christie about this one -- denying that you're guilty of any wrongdoing can be a forever thing.