Here's Donald Trump using Twitter to link to a really, really fake news site to trash the controversial BuzzFeed "dossier." This is getting weirder by the day!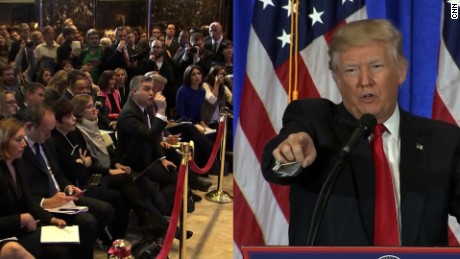 Trump refused to call on CNN, calling them "fake news." Dissed BBC, too.
Oh boy, did Donald Trump jump the shark on Twitter this morning.
INTELLIGENCE INSIDERS NOW CLAIM THE TRUMP DOSSIER IS "A COMPLETE FRAUD!"

@OANN

— Donald J. Trump (@realDonaldTrump) January 14, 2017
His claim that "intelligence insiders" now claim the Trump dossier is a fraud may itself be a fraud, as he offers no proof, and I've seen nothing in the "papers." And this link to @OANN is rich indeed. Here's a glimpse into the One America News Network:
This man who will be president in less than a week just tweeted a link to a "news" site that he prefers over CNN, NBC, or BBC. We're screwed.
BTW, comments are mixed on this video's
YouTube page
, but it's not hard to deduce from reading them that people are generally aware that this isn't, er, "fact checking." Thank heaven's for that. Those positive comments that like this "news" are case studies in
cognitive bias
.
Update.
There are those that believe Trump's
attempts to delegitimize the mainstream media
may actually work and is as dangerous as any other thing he's attempting to do.