Donald Trump's narcissism sank Sean Spicer's debut but good. With inauguration crowds smaller than previous ones -- and a Women's March on Washington that dwarfed Trump's debut -- the Trumputin regime gets underway in an underwhelming way. Ouch!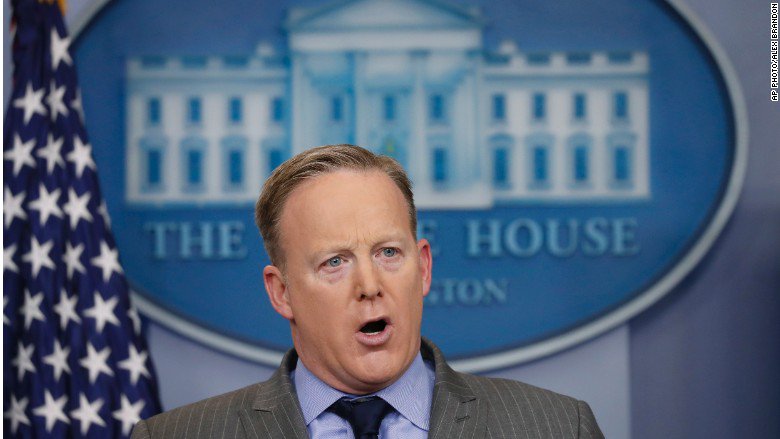 Sean Spicer: born to run, away from the truth. #EPICFAIL.
What was Sean Spicer's statement in question?
"This was the largest audience to ever witness an inauguration, period, both in person and around the globe," Spicer said.
Ari Fleischer, George W. Bush's first press secretary, probably put it best in a tweet heard round the world:
This is called a statement you're told to make by the President. And you know the President is watching.

— Ari Fleischer (@AriFleischer) January 21, 2017
Double ouch! Hillary Clinton's spokesman Brian Fallon
was not easier on Spicer
:
Sean Spicer lacks the guts or integrity to refuse orders to go out and lie. He is a failure in this job on his first full day.

— Brian Fallon (@brianefallon) January 21, 2017
Aerial photos have indicated that former president Barack Obama's first inauguration attracted a much larger crowd. Nielsen ratings show that Obama also had a bigger television audience.
Spicer said, without any evidence, that some photos were "intentionally framed" to downplay Trump's crowd.
He also expressed objections to specific Twitter posts from journalists. And he said, "we're going to hold the press accountable," partly by reaching the public through social networking sites.
His statement included several specific misstatements of fact in addition to the overarching one.
Finally, Politico, DC's new bible, was
no nicer on Spicer
:
In his first post-inauguration press conference Saturday, White House Press Secretary Sean Spicer immediately accused reporters of making inaccurate claims.
He then proceeded to make no fewer than four inaccurate claims in five minutes and 30 seconds of speaking, took no questions, and left.
So here we are. First day on the job. But the real question is: Where does poor Sean go when he's signed on to a regime that's dedicated to a steady stream of misinformation and narcissistic blather? If Trump were merely committed to winning the war on the media by making the misinformation so dense that people begin to lose faith in information entirely, that but would be one thing. But a thin-skinned narcissist needs a constant retelling of the facts to support the narcissism. As Trumputin would say: Sad!
Also, Spicer has to go out in front of the WH press corps daily. Does that mean a daily disaster? Or does it mean the banishment of the press from the WH happens sooner rather than later?
If you want to see the future for Spicer there are a lot of ideas in the Ari Fleisher's
Twitter thread
. Click on his tweet above and read the replies. Double super ouch.
It should be noted that Donald Trump -- much to the chagrin of
outgoing spy chief John Brennan
-- echoed Spicer's claim in a bizarre and inappropriate place: spouting false claims about crowd size and blaming the media for his rift with the intelligence community during an informal speech at the CIA headquarters on Saturday. Trump's claim? I insulted you for days on Twitter, but the media made me do it. Weak!