John Lewis called out Trump's delegitimate election, and Trump responded with tweets based on wildly incorrect assumptions of what kind of district a Black Man must be representing. Hey Trump, be racist much?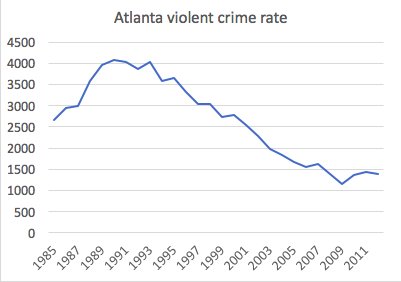 Paul Krugman wasn't the first to notice the blatant racism inherent in Donald Trump's anti-John Lewis tweets following Lewis' candid assessment that after hearing the outrageous disregard for a true and fair election inherent in the FBI's inaction on Russian hacking and the FBI's clearly political handling of the Hillary Clinton email non-scandal. But once on the job, Krugman pounced the way he knows how: with facts. (Thanks, Paul, for the above graph.)
Congressman John Lewis should spend more time on fixing and helping his district, which is in horrible shape and falling apart (not to......

— Donald J. Trump (@realDonaldTrump) January 14, 2017
mention crime infested) rather than falsely complaining about the election results. All talk, talk, talk - no action or results. Sad!

— Donald J. Trump (@realDonaldTrump) January 14, 2017
As you can see from the above graph, what crime infestation? Did Trump even check? Also, is Lewis' district "in horrible shape and falling apart?"
Nearly nine out of 10 residents of the Fifth District were high school graduates or had education beyond high school, and about four out of 10 residents had at least a bachelor's degree, according to Census estimates.
The largest single chunk of employed residents in Lewis' district, about half of the civilian work force, worked in a field grouped by the Census as "management, business, science, and arts occupations." The district includes Atlanta's downtown and main business district, and includes the headquarters of the Coca-Cola Company in Midtown and Delta Air Lines near Hartsfield-Jackson Atlanta International Airport. It also covers the campuses of Georgia Tech and Emory University as well as the federal Centers for Disease Control and Prevention and many of the city's major cultural and arts institutions.
The district also has the Ritz-Carlton. Read
the whole article
to see what a modern black-majority southern city can look like. Among other things, it's not the nightmare Donald Trump assumes about the black "inner cities" that he campaigned against.
It's going to be a long four years (if that, oops, wishful thinking), and the most important thing we in opposition can do is keep the truth out there.