FIFA sticks it to countries hosting World Cups. Is the exploitation over??
In the past, I've read with horror the exploitative ways of FIFA, which has lorded over international soccer since forever. Countries that vie for a chance to host the World Cup, for example, found themselves boxed out of most of the profit-making opportunities. To see the executives of FIFA
swept up in corruption charges
by the U.S. Department of Justice is satisfying on so many levels.
But it begs the question: Why did it take the U.S. DOJ to do this? Where was the EU? Latin America? I don't know enough about international soccer -- despite being a huge fan -- to know.
But
CNN does
. Whoa:
When FIFA cleared itself of wrongdoing, the FBI wasn't ready to do the same.
It wanted to know whether any of the allegations of bribe-taking and kickbacks by FIFA officials took place on American soil.
And it knew it was on the right track, especially after it secured the cooperation of a former top FIFA official -- and an American -- named Chuck Blazer.
Blazer had found himself in a bind. He hadn't paid his taxes for many, many years and was looking at serious prison time. So he became an informant, who provided documents and recordings of meetings with FIFA colleagues that hinted at not-so-kosher dealings, law enforcement officials said.
Shit works that way. Read the CNN story. It's like a crime novel.
It gets better as seven of the indicted
were arrested in a Swiss hotel
.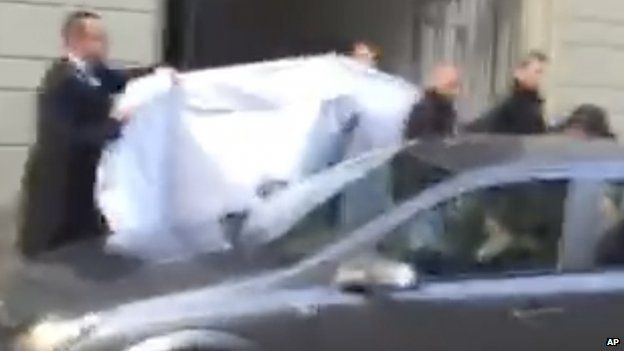 FIFA bosses arrested in surprise raid on a Zurich hotel. Who's got the movie rights?
Here's the Justice
report on the indictments
. Who knows where it goes from here, but it seems four have already pleaded guilty and rats are ratting and all that. FIFA certainly had this coming, and I hope the sport will be the better for it.
Slate
offers a good report
of the festivities, pointing out the Swiss involvement in capturing the seven at the FIFA annual meeting, and that Swiss officials have grabbed documents at FIFA headquarters. It also seems that the Swiss -- who must have been in close touch with both the DOJ and the FBI -- are
starting their own investigation
, focusing on the 2018 and 2022 World Cup bids, won, incomprehensibly, by Russia and Qatar, respectively.
Of note is the fact that FIFA president Sepp Blatter -- sounds like a name out of
Blade Runner
-- wasn't included in the indictments. He must be sweating bullets now, wondering which rat will act ratly.
A final thought: Loretta Lynch has only recently been confirmed and installed as Attorney General. James Comey has not been in charge of the FBI all that long. Both had worked on this case in their previous roles as U.S. attorneys. But just as a recent case against the banks in the exchange-rate scandal led to fines with
an admission of guilt
, a rarity before now, it appears that the Obama administration is building a legacy for justice after squandering opportunities in past years. Better late than never.
Here's to a reformed -- or remade -- FIFA in the very near future, sans corruption.