Michelle Rhee: She screwed up DC, but don't worry, she took her show on the road.
Education, holy crap, are we getting one. Watching the
corporate interests
backing Michelle Rhee and her StudentsFirst con game is exhilarating, especially if you're
a conservative politician
. If you're
a corporation
, too. With Michelle, you get a two-fer, maybe even a three-fer.
One, through charter schools and school vouchers, you slowly destroy public education! Can you imagine Walmart High, Pepsi Middle, Burger King Elementary? Two, testing, testing, testing. Someone's got to design and publish all the tests, and the booklets, and the instructions, and the test-prep guides, and so on. And, hey, we could change standards! Yay, new tests! And three, break the teachers' labor unions. When we break public-sector unions, it'll be just about lights out for the labor movement. All the corporations win. No wonder they donate so much money to your cause, Michelle.
Got to hand it to you. You took a
lousy teaching job
in Baltimore and turned it into a
successful mega-con
. Good work! Too bad DC got screwed, and Atlanta also got caught erased wrong answers, and too bad
none of your reforms worked
, and
people lost their jobs
, and DC is down where it was before you started, while you were there, and after, too! Hey, it's just all in a days work for you, Michelle. Bygones!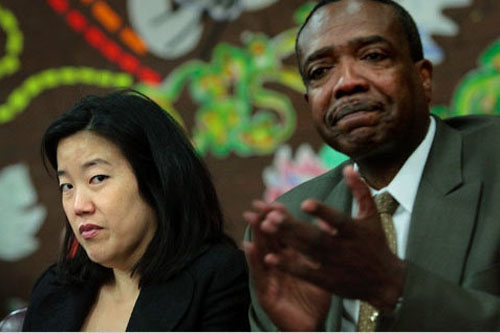 Chancellor Rhee and Union boss Parker: Let's get ready to fumble!
A bit from
the article
following George Parker's loss in a second run for DC Superintendent:
It was just eight months ago that the District and the union reached agreement on a game-changing contract that took two-and-a-half years and the services of a mediator to finalize. The pact gave teachers a 21 percent raise over five years - with additional money available through a performance pay system - but also weakened seniority and other traditional job protections.
With his defeat by a margin of 556 to 480, Parker joins Rhee and Mayor Adrian M. Fenty (D) as the third major figure to effectively be forced from office by political fallout from the 2007-2010 school-reform movement.
The union contract Michelle Rhee negotiated gave an amazing set of raises to the DC teacher work for, with a system of bonuses for high performance. It was overwhelmingly passed, but because of the weakened seniority and tenure protections, dozens of administrators and hundreds of teachers were fired. This is not what the teachers expected from an performance incentive plan.
Read more about it in Diane Ravitch's book
Reign of Error
, yes, about our dear Miss Rhee, available from
Amazon
. Hear her discuss the book over at the TPM Cafe,
here
,
here
, and
here
.
Hey, Michelle: Get your con over and go, okay?