Edward Snowden: when a criminal is actually a hero.
Actually, no. But
the Pulitzer Prize for Public Service
has gone to the
Washington Post
and the
Guardian
for its reportage on the Edward Snowden leaks. The two papers were the chosen beneficiaries of the leak, with Barton Gellman at the Post and Glenn Greenwald at the Guardian.
On top of the Polk Awards just given to Greenwald, Gellman, Laura Poitras, and Ewan MacAskill for their NSA/Snowden coverage, the Pulitzers bring into stark relief the difference between the U.S. government's view of Snowden's actions and the view of the larger world, or even that slice of it called American journalism.
Congrats to all concerned, and special kudos to the reporters with guts and brains that gave us this gift of information that keeps on giving.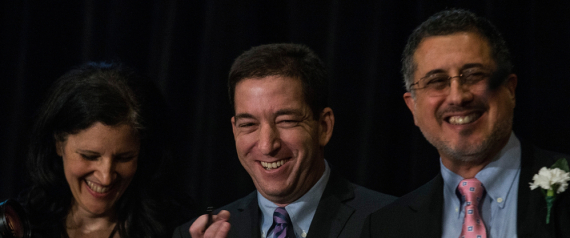 Poitras, Greenwald, and Gellman: reason to smile.