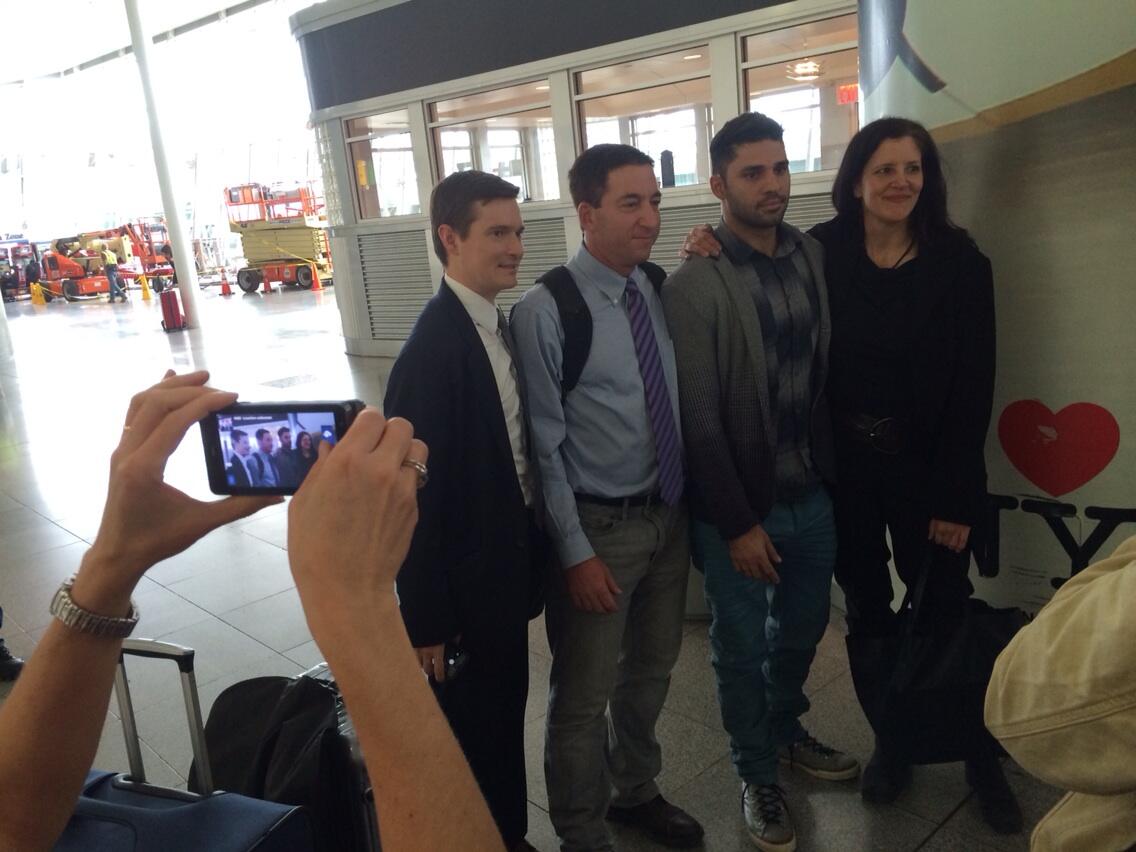 Unknown man, Glenn Greenwald, David Miranda, and Laura Poitras at JFK.
Huffington Post reports
that Glenn Greenwald and journalist-in-arms Laura Poitras returned home without incident -- meaning no arrest -- in order to receive their Polk Awards. Congrats.
Now, in a connected vein, Bloomberg
reports that the NSA
-- target of whistleblower Edward Snowden, with an assist from Greenwald and Poitras -- has known about the Heartbleed bug that left millions of Internet users vulnerable to stolen information, including passwords, bank accounts, credit cards and the usual scary data, and
had known about it for more than two years without alerting those in danger.
That makes the NSA appear decidedly un-American and not at all interested in the cybersecurity of American citizens, let alone citizens of the world who rely on America not being a collection of total douche bags:
Heartbleed appears to be one of the biggest glitches in the Internet's history, a flaw in the basic security of as many as two-thirds of the world's websites. Its discovery and the creation of a fix by researchers five days ago prompted consumers to change their passwords, the Canadian government to suspend electronic tax filing and computer companies including Cisco Systems Inc. to Juniper Networks Inc. to provide patches for their systems.
Putting the Heartbleed bug in its arsenal, the NSA was able to obtain passwords and other basic data that are the building blocks of the sophisticated hacking operations at the core of its mission, but at a cost. Millions of ordinary users were left vulnerable to attack from other nations' intelligence arms and criminal hackers.


"It flies in the face of the agency's comments that defense comes first," said Jason Healey, director of the cyber statecraft initiative at the Atlantic Council and a former Air Force cyber officer. "They are going to be completely shredded by the computer security community for this."
Shredded indeed. It staggers the mind that our government spooks feel this kind of contempt for their charges. Thanks, but I don't want you anymore. Go away. I know it won't be prison, but...
Edward Snowden more and more a hero every day because the NSA is so corrupt.