With poll numbers sinking like a stone, it's hard to maintain the narrative that Trump is "shaking things up." Flopping bigly is more like it.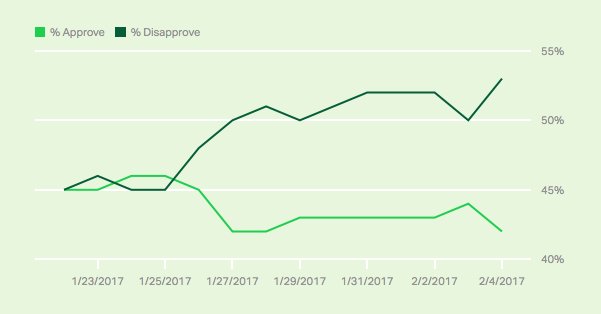 It's hard to look at a graph and figure out exactly what's going on. Trump's numbers had already headed south prior to announcing his Muslim ban on Jan. 27th, and they even perked up a bit as his base probably generally supported it. But as the administration flailed with maintaining the ban in the face of court orders -- actually ignoring them for a time and flirting with contempt-of-court citations -- his approval sank precipitously.
As the most unpopular president in modern history at the outset of a presidency, Donald Trump managed to skip the honeymoon and move straight to "how did this guy get elected?" territory. With so much going on, it isn't even possible to say why his numbers dropped on Feb 3rd. Was it his yelling on the phone at the Australian prime minister? Was it asking at the National Prayer Breakfast for the nation to pray for Arnold Schwarzenegger's
Celebrity Apprentice
ratings to approve? Was it Kellyanne Conway's making up a massacre to justify the Muslim ban? Was it White House meetings with Wall St. tycoons instead of advocates for working-class jobs? Who knows, but this is obviously no way to run a presidency, that I can tell you.
What's even more alarming -- if you're Trump watching your poll numbers or simply an American citizen with a modest grasp of what happens in political life -- is what will proceed from this administration once it gets its cabinet of deplorables
™ firmly in place. Each was chosen to dismantle their agencies, not to promote the value of their programs. (Yeah, three exceptions, luckily, might be Defense and Homeland Security, as well as CIA Director.)
Trump's base might cheer as he destroys Washington DC, but the resulting chaos will cost more jobs than his Wall St. bromance will ever produce. And, perhaps unsurprisingly, more and more Americans agree.