Yeah, of course everyone is saying Trump's supporters will follow him over a cliff, but somewhere -- most of America? -- someone is noticing the Donald's unending bullshit.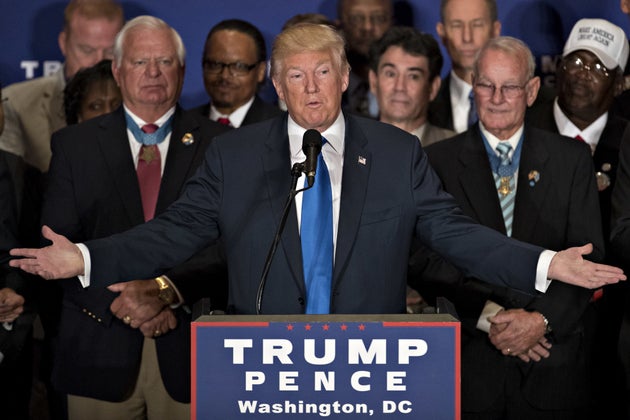 Donald Trump ran with the birther thing until today. Bygones!
Sorry, Donald Trump, you don't get to accuse, for years and years, Barack Obama of not being -- "I don't know, do you know, people are telling me, I'm hearing that he was born in Kenya, could be Muslim, we don't know, this is what I'm hearing, who knows?" -- an American citizen, then turn around at an event
you characterized as a press conference
and instead pitch your new DC hotel before having a ceremony featuring a bunch of military men and a gold-star wife endorsing you, and then
spending about 30 seconds lying about Hillary starting the birther movement and you finishing it by forcing the president to release his birth certificate.
You don't get to do that, unless the American political press has completely gone off its rocker or its meds, which is, sadly, a distinct possibility.
This time it looks like
the collective press is livid
at being treated this way, with dozens of headlines proclaiming that you are
falsely accusing Hillary Clinton
of starting the birther movement, and falsely claiming you did a public service by forcing Obama to produce his birth certificate and "
finishing it
", thereby disproving Hillary's claim (
that she never made
), and that, with one expression that Obama was actually born in the United States you can now
end the controversy forever
. Nope, you
can't do that this time
.
We hope.