We as a nation have steadily moved to expand rights for women, gays, and minority voting. Republicans' go-to reaction is "Just Say No."
Republicans pass bad laws and courts fix them. Weird mechanism.
It's past time we recognized that Republican-led states spend an inordinate amount of time passing laws that restrict abortion, gay rights, voting rights, and, more recently, bathroom rights to transgender people.
Examples are in
Texas
,
Indiana
,
Mississippi
,
Ohio
,
North Carolina
,
Georgia
,
Louisiana
,
Wisconsin
,
Arizona
,
Indiana
(again!),
and on
and on
and on
.
This is expensive, if nothing else. These same states tend to be against Obamacare and expanded Medicaid to the poor. They go so far as to refuse
billions of dollars of virtually free federal money
, having the effect of denying hospitals payments they would receive from the feds under the law. These same states often decide to drug test welfare recipients, a practice also proven to be a waste of money, as welfare recipients quite
rarely test positive
.
Now, let's combine this with the Republicans in the Senate deciding
they will not confirm any of President Obama's judicial nominations
, including Obama's pick for the Supreme Court.
Those nasty federal judges who rule against those endless laws that restrict minority and women's rights!
It's no wonder
Donald Trump
has found
a following
among those who would love to
go back to the 1950s
, you know, that wonderful time when Joe McCarthy found
communists under every bed
,
racial segregation was rampant
, and kids across the country
lived in iron lungs as they fought polio
. Happy days!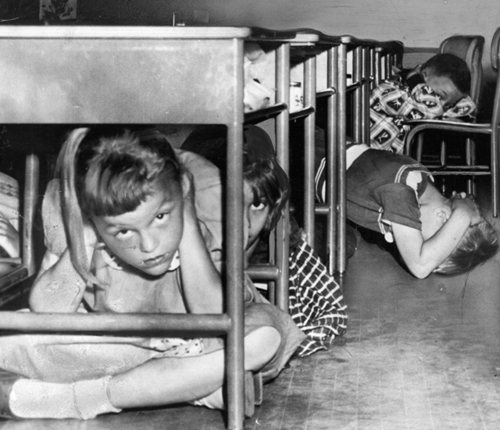 Remember "duck and cover" drills in the 1950s? I do. Freaky, huh?