In a stunning announcement, the Kochs say their $250 million presidential largess will now go to Senate races.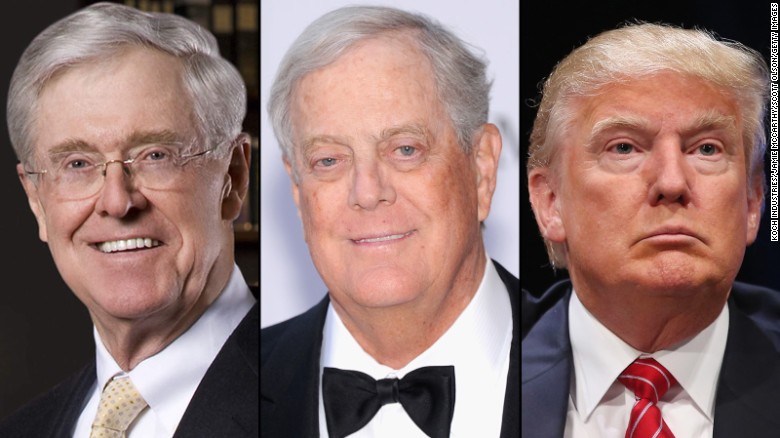 The Kochs: no good money after bad.
The Koch Brothers have weighed in on the 2016 presidential election by
withholding money
from Donald Trump:
None of the presidential candidates are aligned with the Koch network "from a values, and beliefs and policy perspective," Holden said, citing other determining factors such as "running a good campaign" and talking about key issues "in a positive productive way."
"Based on that, we're focused on the Senate," Holden said, noting that the Koch network has devoted around $42 million so far to television and digital advertising to benefit Republican Senate candidates.
Donald Trump responded the only way he knows how, by pretending he could give a crap:
"I turned down a meeting with Charles and David Koch," Trump tweeted on Saturday. "Much better for them to meet with the puppets of politics, they will do much better!"
[Koch spokesman] Holden declined to say whether the Kochs sought a meeting with Trump.
The chances that Trump was actually invited to meet?
Hmm
.
Also, the brothers have made it clear
no money would be used
in anti-Clinton ads either:
The powerful political network helmed by Charles and David Koch is ruling out running advertisements intended to hurt Hillary Clinton, another sign of their insistence on avoiding the presidential race.
The Koch network has previously said they will not back Republican candidate Donald Trump, but on Saturday officials told reporters that they would not run negative Clinton spots, a position taken by some Republican groups that are uneasy with the controversial GOP standard-bearer. The group is laser-focused on maintaining and expanding the Senate majority -- in the midst of a $42 million television advertising campaign focused on a half-dozen states -- and would only use Clinton to bash Senate Democratic hopefuls.
Here is the Republican standard bearer being told that the moneyed elite want nothing to do with him. What a bizarre turn of events for the (former?) party of the moneyed elite, wouldn't you say?
None of this would matter so much if it weren't for the disparity between Trump's fundraising and Clinton's. Trump has raised
$98,742,091
, while Clinton has raised
$374,585,440
(includes outside groups). This has led to an incredibly shrinking campaign strategy for Trump, who has narrowed his effort to
three key battleground states
.
Of course, having a crack campaign
ground game
would help immensely. If only Trump had the money to pay for it.