Football is a violent sport, and those who play it run the gamut from graceful artists -- a Jerry Rice, a Joe Montana -- to thugs -- anybody remember Otis Sistrunk? Sure, some of the best in the sport resemble a role model, but mostly the game is a celebration of barely controlled violence. It's one of the things people like about the game.
Throughout the years of watching the game -- I'm a fan, now one with buyers' remorse -- I remember the satisfaction, the thrill, Ooh, what a great hit!, that melted to horror when it was one of the terrifying blows, like the one that ended Joe Theismann's career or paralyzed Darryl Stingley.
Now that a new scrutiny is bearing down on the sport -- it was barely beginning to deal with head trauma -- because of the domestic violence issue, more is being written and talked about than ever. One aspect is the discovery of trouble in River City in what has become the biggest sport in America. Who would have thought?
One problem is this notion that athletes are role models. It's not nonsense, for young people do admire athletes, musicians, and singers, but it's also baloney, too, because athletes, musicians, and singers fail at being decent humans at the usual regular rate. In fact, they fail at a heightened rate, because of the spotlight, because of the steroids, because of the drugs, because of the narcissism.
I caught this morning's article in the Washington Post of the hypocrisy, if you will, of American star goalie Hope Solo, who's in trouble over an alcohol-fueled violent episode at a family home in which she may or may not have smacked two relatives around. Her case comes to trial in November.
Here's a key graph or two in
the WaPo story
:
Unlike some of the biggest NFL stars, Solo, who is their counterpart in women's soccer and someone touted as a role model, quietly goes about her business of keeping soccer balls from going into the net. NFL stars like Ray Rice, Greg Hardy, Jonathan Dwyer and Adrian Peterson were banished after massive sponsor, political and fan pressure, but Nike, for instance, has remained silent on Solo.
[...]
While U.S. Soccer doesn't have the same high profile as the NFL, how do the cases differ? Aren't women's soccer players just as much role models as male football players? The goalkeeping record is an an important one, both for Solo and for women's soccer, but does it really trump an accusation of domestic violence? Why is the notion of awaiting due process so inconsistently applied? And why aren't more people talking about the fact that domestic violence isn't simply an issue of men against women?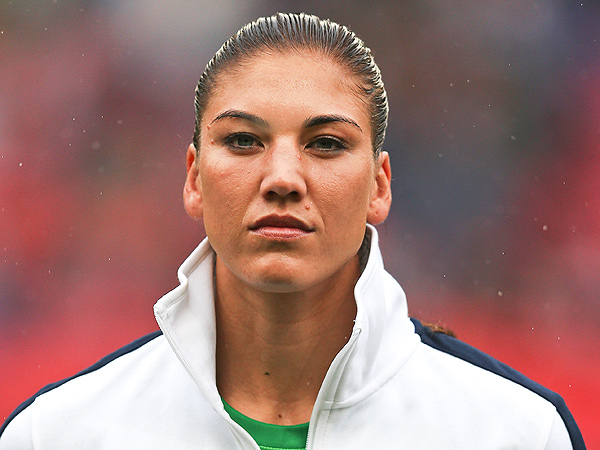 Hope Solo: Getting drunk and going
off on your relatives was a bad idea.
This idea of athletes as role models has always bugged me. I get that the NFL puts certain clauses into their contracts that essentially make their players talk to the media, agree to parade themselves at local kids' hospitals, and generally agree not to be assholes in public. A contract is a contract. You sign it, you abide by it. I don't know what's in Hope Solo's contract. Maybe it has a "don't be an asshole" clause, too.
And kids will look up to them. Adults will swoon over them, as well. Fine. But what's the track record here? For every Derek Jeter, there's a Barry Bonds. For every Eli Manning, there's a Michael Vick. There's Mia Hamm, there's Hope Solo. In music, do I need to mention Chris Brown, Justin Bieber, even John Mayer (major guitarist, major tool)?
People are role models until they're not. That's life. If your contract says you're outa here if you screw up, then you're outa here. If it doesn't, fix yourself, and continue what you do. If you're a big enough jerk -- and this goes for any career, from teacher to lawyer to company president -- you can't expect to hang on to your job.
I'm a second chance guy. I know I've had a few, and I was happy to see Michael Vick make a comeback, in spite of the horrible nature of his infractions. But he did his time, he apparently learned a lesson, and he came back. It's the repeat offenders, the Lindsay Lohans, that deserve shunning if not both our contempt and our compassion. We admire these people, then we feel sorry for them, then we want them to go away.
The second chance, the comeback story, we like these. People deserve them when they earn them. I hope Hope Solo processes her problems and goes on to set records and thrill fans. If she doesn't, it'll most likely be her own fault. But let's stop confusing standards of "role model" with what's in the contract. We're all flawed. But there's a certain blood lust when it comes to celebrities: We hold them up, then we knock them down with gusto. It's a bit disgusting, and it should stop.
Lindsay, you were a role model until you weren't.