A disturbing trend in white-non-Hispanic mortality rates among those with a high-school diploma or less -- as uneducated whites die of drug and alcohol abuse and suicide at an alarming rate -- looks connected to growing income inequality since 1980 and the ascent of Reagan and conservatism.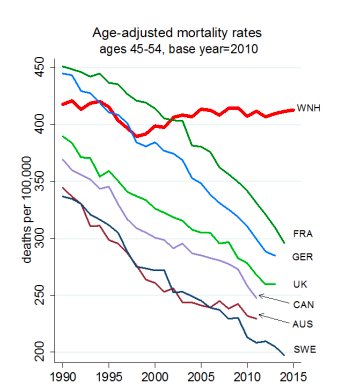 Here's the Brookings Institute that backs up the data above.
Read it and weep
, or not. A pertinent question might be: Why are poorly-educated American non-Hispanics dying at nearly twice the rate as Swedes, while African-American and Hispanic mortality rates continue to track downward?
Answer: Poorly-educated American whites are killing themselves with bad behavior, while blacks and Hispanics, along with all other OECD citizens, are not. Hmm.