In Virginia, the Republicans are going all-in on saving Confederate statues. And, of course, this is not about race. A recent poll shows different.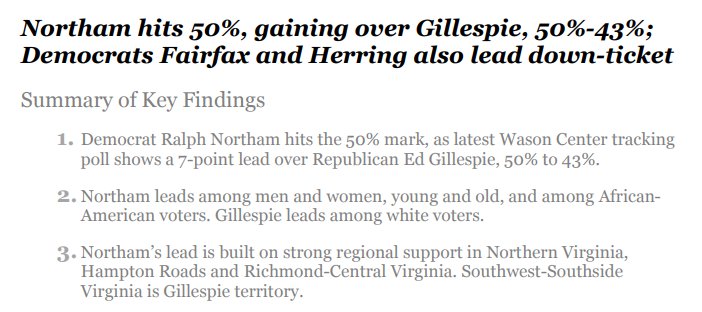 Greg Sargent of the WaPo flags a new poll showing Democrat Ralph Northam holding his own despite the all-in conservative push to make the Virginia governorship race all about race.
In recent days, Republican candidate has been running ads condemning Northam for being, essentially, anti-Confederacy. Wonder what that's all about. Er, hem.
In the graphic up above -- the only copy of the Wason Center poll I could find, courtesy Sargent's Twitter feed -- note the line "Gillespie leads among white voters." Also note that "Northam leads among men and women, young and old, and among African-American voters."
To say "it's come to this" ignores the last 50 years, since Nixon's Southern Strategy. But face it, in this Trump-Bannon era, we need to take a really long look at our racist past-present-future and, perhaps, weep.
This is our America.
Update.
The WaPo editorial board weighs in on
the toxicity of Ed Gillespie's approach
.