Jann Wenner, founder and publisher of Rolling Stone, speaks forcefully in favor of Hillary Clinton. A little unexpected? Yes.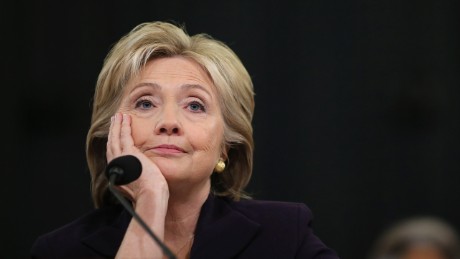 After prevailing at the Benghazi hearings, it's hard to imagine the Republicans
taking this lioness down. But they'd chew Bernie Sanders up and spit him out.
I'm a democratic socialist like Bernie Sanders, so I naturally support most of his policies. I would want to go beyond what Hillary Clinton says is doable in our current -- and near-future -- political climate and reach for the goals Sanders has set.
Fine. But I think Hillary will get farther with her pragmatic approach than Sanders will with his idealistic -- read unrealistic -- aspirations. That's a hard thing for someone more progressive than Clinton to admit, but there you are.
So it's with a little bit of satisfaction to see Jann Wenner, co-founder and publisher of
Rolling Stone,
support Hillary
for basically the same reasons.
Hillary Clinton has an impressive command of policy, the details, trade-offs and how it gets done. It's easy to blame billionaires for everything, but quite another to know what to do about it. During his 25 years in Congress, Sanders has stuck to uncompromising ideals, but his outsider stance has not attracted supporters among the Democrats. Paul Krugman writes that the Sanders movement has a "contempt for compromise."
Every time Sanders is challenged on how he plans to get his agenda through Congress and past the special interests, he responds that the "political revolution" that sweeps him into office will somehow be the magical instrument of the monumental changes he describes. This is a vague, deeply disingenuous idea that ignores the reality of modern America. With the narrow power base and limited political alliances that Sanders had built in his years as the democratic socialist senator from Vermont, how does he possibly have a chance of fighting such entrenched power?
I have been to the revolution before. It ain't happening.
And that's the nub of it. I was in San Francisco a few blocks away from where Wenner and Ralph J. Gleason founded
Rolling Stone
, and I went to anti-war rallies, was inspired by the Berkeley free-speech movement, supported Gene McCarthy in 1968, and voted for George McGovern, just like Jann Wenner did. I thought we had a revolution just around the corner. All I got out of it was acid flashbacks and disco.
I've flirted with supporting Bernie Sanders out of residual idealism from my early days. But, if anything turned me off to Sanders, it was reading Sanders' supporters comments on WaPo and NYTimes articles about this year's candidates. The vitriol -- quite undeserved -- that Sanders' supporters aimed at Hillary Clinton was and is completely uncalled for. Wenner spoke to that, too.
I keep hearing questions surface about her honesty and trustworthiness, but where is the basis in reality or in facts? This is the lingering haze of coordinated GOP smear campaigns against the Clintons — and President Obama — all of which have come up empty, including the Benghazi/e-mail whirlwind, which after seven GOP-led congressional investigations has turned up zilch.
Battlefield experience is hard-won, and with it comes mistakes but also wisdom. Clinton's vote authorizing Bush to invade Iraq 14 years ago was a huge error, one that many made, but not one that constitutes a disqualification on some ideological purity test.
I find it embarrassing that fellow progressives fall into the trap of believing the untruths about Clinton propagated over decades of Rovian-style baseless attacks. Hey, Bernbots, how stupid are you, and why would I associate myself with you? You didn't do your hero any good.
Also, I was listening when the Congress voted in support of the president's Iraq initiative, and it was an authorization meant to support a U.N. resolution to force Saddam's hand. That's the spirit with which many Democrats voted for it. When Bush knew the Security Council was going to vote down the resolution, he pulled it before it had a chance to be voted down. It was an act of undemocratic cowardice, which he then turned into an excuse for a unilateral attack on Iraq.
Plenty of wise men and women followed Bush right into Iraq: Andrew Sullivan, Joe Klein, Thomas Friedman, Christopher Hitchens, and even, possibly, Chris Matthews, among others. They were hoodwinked by -- or enamored of -- Bush's sneak attack, and went along with it. Here's Friedman's almost unforgivably smug support, offered on
Charlie Rose
:
And here's a Fred Kaplan article on Hillary Clinton's Iraq vote that should convince anyone -- who isn't predisposed to dislike Clinton --
that she told the truth
, that
she supported diplomatic pressure on Saddam, and George W. Bush pulled a fast one
. Read the Kaplan article. It's got the key quotes of Clinton addressing the Senate, explaining her rationale for voting. It's exactly the way I remember it. For me, Hillary's off the hook on that one, except for the part about trusting Bush. That was either disingenuous or naive, but it's not as damning as actually wanting the war. She clearly didn't.
So, as we advance toward the conventions, let's get our facts straight and not over-glorify our socialist-democratic candidate. Bernie Sanders is a fine man with fine ideas, but he's no working-class hero -- yet. He's vulnerable to the Republican Wehrmacht that's sure to come. Clinton has already survived it, even thrived under its punishment.
It's why Jann Wenner has gone for Hillary Clinton, and not Bernie Sanders. Yes, he's only a magazine publisher, but he might have his fingers on the pulse of the millennials. I find his viewpoint persuasive.