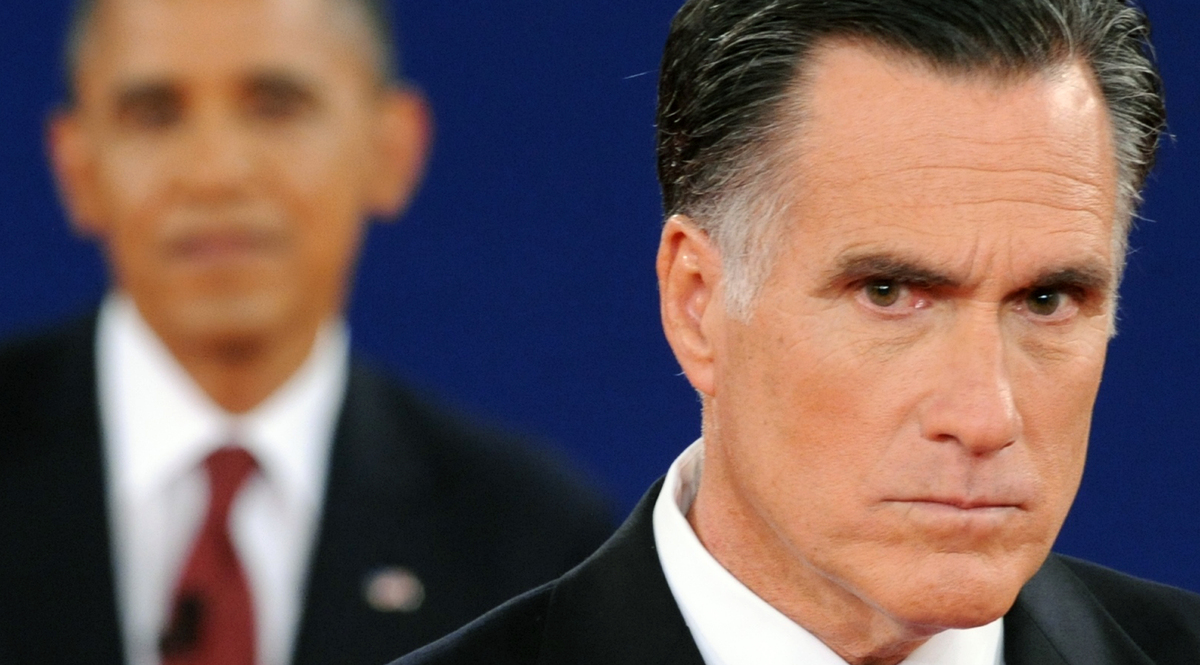 Mitt Romney at the Tuesday debate, staring his own ineptitude right in the face.
I wish every voter could look into Mitt Romney's soul. Would they see a man who thinks lying for the purpose of winning a point in a negotiation or a debate is just the cost of doing business, that God forgives those who lie if they've got a couple million bucks and the ambition to match? Or would they see a man who thinks if he throws out enough three-point plans or five-point plans people will forget that none of the points are worth spit but at least he's a man with plans? Would they see a man who thinks he's just too grand to ever be referred to as a flim-flam man?
We'll never know because we'll never get a look inside Mitt Romney's soul. I suspect Mitt Romney never will either. I've never seen any evidence that Mitt references his soul on a regular basis. He left that behind in high school when he was bullying kids whose hair wasn't right.
All we'll get to see of Mitt Romney was what he presented on the debate stage this past Tuesday, and it didn't look good. Oh, it looked good to about 30 percent of voters, but those are the same folks that thought George W. Bush was a good president, people I like to call Bush dead-enders. And, sure, Mitt will get another 18 percent of the voters that watched Mitt and saw that he
has a plan
, for Pete's sake, and he isn't a black Muslim Kenyan.
Let's look at those plans:
We didn't get a look into
Mitt Romney's soul
on that debate stage. What we didn't see was much of a reason to hope for his election. Maybe he'll actually look into his soul after his failed campaign. I'd hate to think of what he'll see.
I could have been a contender, I could have been somebody. You were, Mitt, you were.