Russia is poised to host the 2014 Winter Olympics in a few months. In spite of that, the government -- most assuredly driven by Vladimir Putin -- pushes on with severe anti-gay laws. Russian society seems fertile ground for
anti-gay hate
. It's pretty shocking. The Duma voted in a new anti-gay law last month, passing it 436-0.
Is Russia the place to
celebrate the Olympic spirit
?
Russian youths attack a gay activist. A civilized nation that deserves the Olympics?
We need a broad-based movement either to boycott the Sochi Olympics or make sure the issues -- and support of LGBT athletes -- are front and center as the Olympics progress.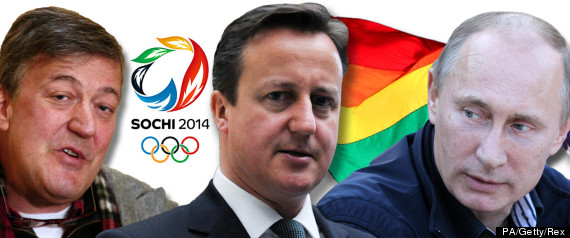 This is the Brits' reaction: Ban it!! Putin? Heartburn fer sure...
I'm inclined to simply boycott Russia, and boycott the Olympics. Uh, we've made NO PROGRESS? Rarely shout, but Russian anti-gay stance is offensive to open societies everywhere.
Jump on board the boycott. Lean on NBC, the TV sponsor. Pressure the corporate sponsors. Make them pay for endangering the LGBT community around the world. Russian anti-gay laws are an anachronism that run counter to the spirit of enlightened people everywhere. Surely the Olympic spirit is meant to support freedom and safety.
I personally will not support or buy any product from any sponsor -- from any country -- of the Sochi Winter Olympics. I will express my opinion of their participation where I can on social media. Any sponsor that uses the opportunity to use their advertising perch to express support for freedom and safety for LGBT athletes may get my support.
Even if efforts fail to dislodge the Olympics from Russia, all efforts should be made to embarrass Russia for being a backward country that doesn't deserve the respect of a 21st-century world.
Bad press for Russia is popping up all over. Examples are
here
,
here
, and
here
.
Both Barack Obama and Jay Leno speak out against Russia's anti-gay
stance during the president's recent appearance on the Tonight Show.
The New Yorker covered Barack Obama's
remarks
on Jay Leno's show:
Leno: Do you think it will affect the Olympics?
Obama: I think Putin and Russia have a big stake in making sure the Olympics work, and I think they understand that for most of the countries that participate in the Olympics, we wouldn't tolerate gays and lesbians being treated differently. They're athletes, they're there to compete. And if Russia wants to uphold the Olympic spirit, then every judgment should be made on the track or in the swimming pool or on the balance beam, and people's sexual orientation shouldn't have anything to do with it.
(Applause.)
Leno: Good enough for me.
Obama has a way of coming out on the record for causes he believes in. He does lend support for many of the right causes (even if he's conventional when it comes to Wall Street and national security,
sigh
). Anyway, kudos for his stance on the Russian anti-gay question.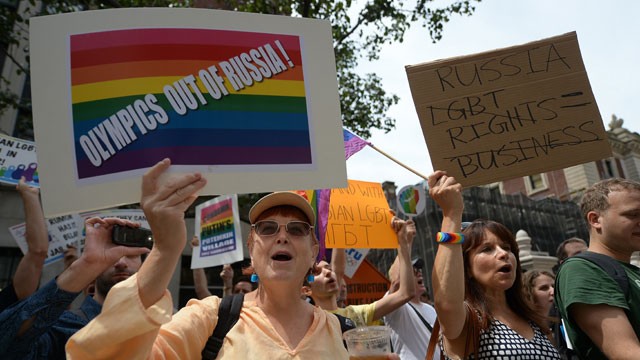 Protest is broader than I thought. Sen. Jeff Merkley (D-Ore) is on board.