More than a decade ago, the public editor for NPR explained why she was dropping "torture" as a term and substituting "enhanced interrogation." (Her rationale was that we didn't know what defined torture.) A long-time contributor, I haven't given NPR a dime since. We know what torture is, and Gina Haspel enabled it, directed it, then covered it up.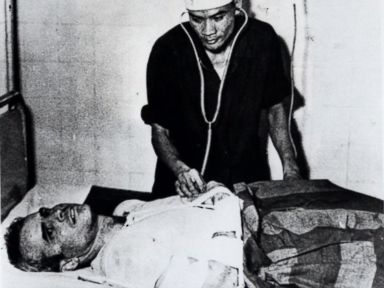 John McCain's less than stellar medical care in captivity was a form of torture.
It's gratifying that Rand Paul has already announced his vehement opposition to Gina Haspel for CIA Director. John McCain hasn't stated opposition but has declared what he needs to see from her even to consider a "yes" vote:
The torture of detainees in U.S. custody during the last decade was one of the darkest chapters in American history. Ms. Haspel needs to explain the nature and extent of her involvement in the CIA's interrogation program during the confirmation process. I know the Senate will do its job in examining Ms. Haspel's record as well as her beliefs about torture and her approach to current law.
Such a statement invites those on the Senate Intelligence Committee to offer no quarter to Ms. Haspel in her confirmation hearing. Will she get by? Should she even be considered in light of her horrendous career as
a mocking, almost celebratory practitioner of torture
?
One declassified cable, among scores obtained by the American Civil Liberties Union in a lawsuit against the architects of the "enhanced interrogation" techniques, says that chief of base [Haspel, in Thailand,] and another senior counterterrorism official on scene had the sole authority power to halt the questioning.

She never did so, records show, watching as Zubaydah vomited, passed out and urinated on himself while shackled. During one waterboarding session, Zubaydah lost consciousness and bubbles began gurgling from his mouth. Medical personnel on the scene had to revive him. Haspel allowed the most brutal interrogations by the CIA to continue for nearly three weeks even though, as the cables sent from Thailand to the agency's headquarters repeatedly stated, "subject has not provided any new threat information or elaborated on any old threat information."

At one point, Haspel spoke directly with Zubaydah, accusing him of faking symptoms of physical distress and psychological breakdown. In a scene described in a book written by one of the interrogators, the chief of base came to his cell and "congratulated him on the fine quality of his acting." According to the book, the chief of base, who was identified only by title, said: "Good job! I like the way you're drooling; it adds realism. I'm almost buying it. You wouldn't think a grown man would do that."
Gruesome. Do you want someone like this in charge of the CIA, an institution that has operated black sites and black ops around the globe for decades? The answer can only be a loud no. Write your senator.
Note.
When NPR disavows that position and apologizes, I'll gladly start contributing again.