I didn't know Paula Broadwell before a couple of days ago. I guess I didn't watch the Daily Show that night. Now she's a little famouser. Good for her.
I give the scandal another week, maybe two if Congress really wants to ride the sexytime train. Who knows? Who cares?
Best line so far about the scandal? You can count on Atrios of
Eschaton
:
Kind Of Obvious

But I haven't seen it said yet. Looks like a corrupt abuse of the surveillance state took down the CIA chief.

HILARIOUS
Nailed it.
Beyond that is the simple fact that a Great Man -- and potential presidential candidate in the eyes of many Republicans -- has decided that unlike the rest of the world he can have sex with the wrong women and NEVER get caught. Right. Now he has to resign because honor.
Hate to say it, but who's next? Power is so cool! And
just how was
the war-hero general guy brought low?
Ms. Kelley, a volunteer with wounded veterans and military families, brought her complaint to a rank-and-file agent she knew from a previous encounter with the F.B.I. office, the official also said. That agent, who had previously pursued a friendship with Ms. Kelley and had earlier sent her shirtless photographs of himself, was "just a conduit" for the complaint, he said. He had no training in cybercrime, was not part of the cyber squad handling the case and was never assigned to the investigation.
But the agent, who was not identified, continued to "nose around" about the case, and eventually his superiors "told him to stay the hell away from it, and he was not invited to briefings," the official said. The Wall Street Journal first reported on Monday night that the agent had been barred from the case.
Later, the agent became convinced — incorrectly, the official said — that the case had stalled. Because of his "worldview," as the official put it, he suspected a politically motivated cover-up to protect President Obama. The agent alerted Eric Cantor, the House majority leader, who called the F.B.I. director, Robert S. Mueller III, on Oct. 31 to tell him of the agent's concerns.
The official said the agent's self-described "whistle-blowing" was "a little embarrassing" but had no effect on the investigation.
[emphasis added by Josh Marshall, TPM]
Maybe the Agent Who Will Be Named Later brought down the Great Man or not. Maybe I do want the scandal to have legs if it's got entertainment value like this.
Cast of characters:
The Great Man in happier times, you know, when he was fighting a war.
The Wrong Woman being interviewed by Jon Stewart. Must-see TV? His next show.
The other Wrong Woman: totally called the right FBI agent.
Not really in the cast of characters, but seen drooling earlier today.
In the process of writing this post I've come full circle: Let's ride this scandal for all it's worth. Let's whip this beast and run it right off the fiscal cliff!
I am so recording Stewart and Colbert tomorrow.
Update.
Okay, this is too good not to include. Of course, it'll be old news soon, but it's still fun:
Update 2.
Okay. No way this scandal was going to do this. Really. But it has. Seems a top general in Afghanistan is involved with the other Wrong Woman in some small way. Like in some small way that involved 20,000 to 30,000 pages of emails. Or something.
The NY Times
:
Gen. John Allen, the top American and NATO commander in Afghanistan, is under investigation for what a senior defense official said early Tuesday was "inappropriate communication" with Jill Kelley, who was seen as a rival for David H. Petraeus's attentions by Paula Broadwell, the woman who had an extramarital affair with Mr. Petraeus.
This other Great Man, who is connected to the other Wrong Woman, is currently back in Washington for hearings leading to being appointed the commander of American forces in Europe and the Supreme Allied Commander of NATO when his command in Afghanistan is over. For now, that's really not happening. Stay tuned to the Little Scandal That Could. Go. Nuts.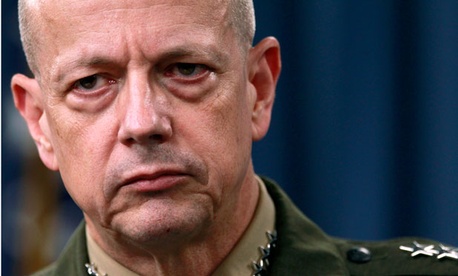 New cast member, General John Allen. Who's next?
Update 3.
We don't have to wait for the Stewart rerun this evening: