No, this is not ridiculous. It's exactly the way this shit works with Trump. His messes are his whole mess. We just get to live with it.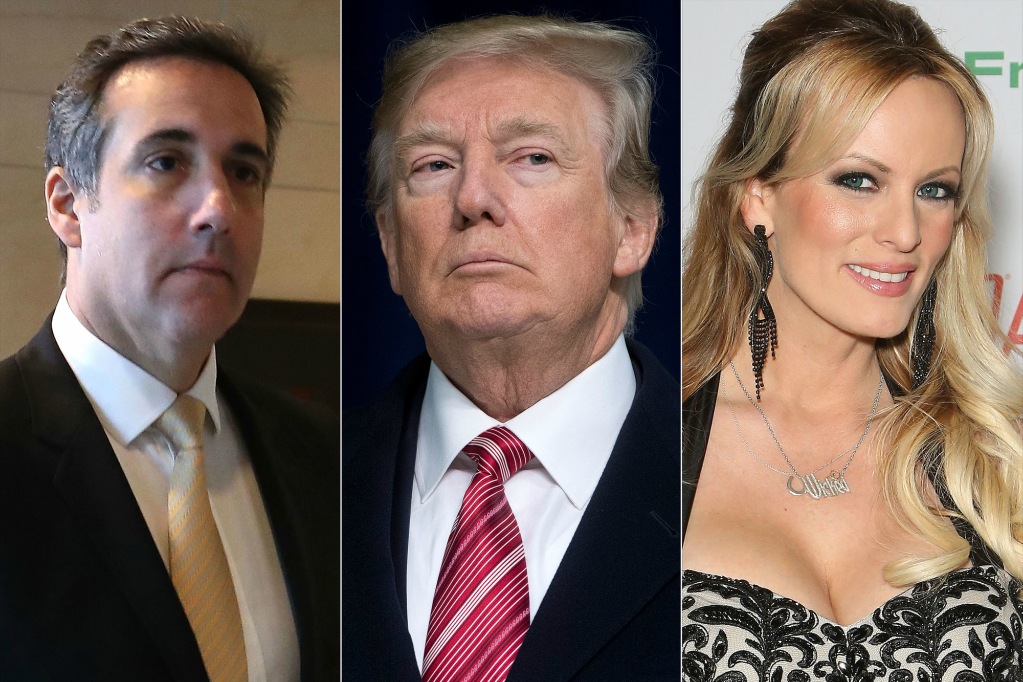 Yes, Russian sanctions and the Iran deal-breaking are connected to
Stormy via Cohen. Who would have thought such a thing? Er, Avenatti.
Okay, for the grand Unified Field Theory of Trump's Stormy Daniels Foreign Policy:
Trump and his lackies going back as far as 2015 with Michael Flynn, Vladimir Putin and Russian oligarchs have been playing footsies, always about playing ball vis a vis sanctions and other quid pro quo arrangements.
There were multiple tracks, but one of them turns out to be payments by Viktor Vekselberg -- partly on behalf of

Oleg Deripaska -- to the same LLC set up to funnel money to Stormy Daniels. The "quo" is the slow walking of sanctions that would affect the money interests of both oligarchs, who have close ties to Putin. In fact, both a set of sanctions by Barack Obama to punish Russia for dirty campaign tricks and sanctions later passed by Congress have not taken full effect, with both Steve Mnuchin and Wilbur Ross playing their parts.

So, Daniels was paid off, in effect, with money paid for having the sanctions delayed.

There is very much more to this, as payments from drug company Novartis and AT&T have flowed into the same LLC account set up by Michael Cohen. So stay tuned on that one, but it sure sounds like pay-to-play to me.

From a Slate piece on this: "The Steele Dossier alleged that Russians had made a deal with Trump associates for the Russians to sell Rosneft, the massive state energy company, and use the commissions to give Trump associates payments under the radar, in return for lifting or softening sanctions. The Rosneft sale went through in December 2016, a month after the election, coinciding with Jared Kushner, Michael Flynn, and Carter Page's various alleged communicatio, ns with Russians. Just eight days before this oil megadeal, Flynn and Kushner met Russian Ambassador Sergey Kislyak at Trump Tower, and Kushner reportedly proposed a secret communication link with the Kremlin through the Russian embassy. Then, a few days after the Rosneft deal, Kushner met Sergey Gorkov, chair of Russia's government-owned VE Bank (VEB) and Putin's close confidant."

So, yet another crazy piece of the "dodgy" dossier is proven true. (Pee tape, anyone?)

Connection to Iran? With the Iran deal, Trump has produced a mirror image: When the clearly dirty-dealing Russians are rewarded by cancelling or delaying sanctions, even though they do harm to the U.S., the Iranians are punished by having their sanctions re-instituted, even though they are in compliance.
By the way, there's one more late-breaking element. We know that the only other client Michael Cohen could claim to have to the court -- other than Trump and Sean Hannity (and that's just "advice on real estate deals") -- is
Elliott Broidy, a Republican fundraiser. Apparently Cohen helped arrange a payoff of $1.6 million for Broidy to yet another Playboy Playmate,
Shera Bechard, who got pregnant and had an abortion. But here's the funny part: According to records, the Broidy payoff was, just as with both Stormy Daniels and Karen McDougal, arranged between Michael Cohen and attorney Keith Davidson ostensibly representing the women, and the Broidy payoff also used the Stormy NDA as a template right up to and including the fake names David Dennison and Peggy Peterson and paid through the same entity, Essential Consulting LLC that was used to pay off Stormy.
Now, please tell me why it's not obvious that both payoffs were on behalf of Donald Trump, and that for some reason Elliot Broidy didn't mind stepping up and taking the fall -- and the heat -- for Donald Trump. Was it to bury the abortion? Was it also a pay-to-play move by Broidy who had a number of foreign deals he needed help with? John Campos of New York Magazine thinks so. What a mess, and it's only going to get messier.
Note. Don't forget that Michael Cohen is mobbed up with both Russian and Ukrainian interests in a number of ways: he's married into it, he was raised around them via his uncle, and he owned, co-owned, managed, and traded taxi medallions with them.